Step right up and have a listen to this edition of lesfire with our guest, Those Howlings. This particular podcast features explicit language that may or may not be to your liking, especially if you are sensitive to discussion concerning graffiti depicting rival Chicago gangs and certain anatomical male features impaling a caricature of said rival gang.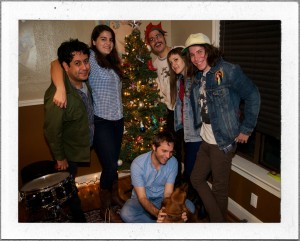 Those Howlings consist of Kyle Fitzgerald, Jolie Cota Flink, and Adam Sharp. Hailing from the windy city they followed the all-to-obvious direct route to Austin, trading the sunny beaches of Lake Michigan for our fair shores along Town Lake.
Since forming in 2011, they have released a full length album Manifest Blasphemy and a 7″ Paid For You b/w Dip It In. Take your pick of any of these labels: "Surf" "Garage" "Punk" then add "Rock" and you're in the ballpark musically. The swinging and feel good nature of the music pulls a Mary Poppins on you, allowing the deeper message to be digested with little more than a spoonful of sugar. Blending a "Tremors (1990)" like subterranean vocal cacophony with a sci-fi scented full frontal instrumental assault takes a particular spirit to pull off and Those Howlings have it.
In this episode we discuss the reasons behind the bands migration to Austin, pair Jolie's awesome gargled singing voice with an a cappella version of the Jurassic Park theme, delve into several culinary tips for touring bands, and finally listen to a pair of new songs.