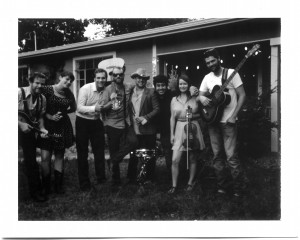 Without further ado, Episode 3!
The name Sour Bridges, like Smokey Bear, exists with no pretense of formality. Their sophomore album "Catfish Charlie" will be released on August 11th 2013 to further spread Browngrass, a musical style with plenty of roots inspired instrumentation, fit, and finish.
It shares a good bit with that other well-known grass-named genre, however Browngrass isn't merely a name change. It expands on the basic premise by leaning on classic rock, three part harmonies, a prominent rhythm section, and lyrics that are instantly relatable yet pleasantly nuanced. Not to be forgotten, the mandolin and fiddle feature heavily with a syrupy sweetness reminiscent of Aunt B's strawberry jam!
On this episode we sit down with Sour Bridges fiddler Kat "Mama Kat" Wilke, bassist / vocalist Jack "Bridges" William Ellis III, drummer Dalton Chamblee, and brothers Bill and Matt Pucci who round out the band on vocals, guitar, banjo, and mandolin.
We dive into the Sour Bridges story, taking plenty of cookie inspired detours before we end up with a killer acapella rendition of an '80s TV theme, a classic Halloween favorite, and tracks from their upcoming album: Catfish Charlie!