Hola podcast fans. We present to you Episode 11 of lesfire featuring Auroravore. This particular podcast features explicit language and adult oriented themes that may not be suitable for those who are uncomfortable with a band named for female flatulence.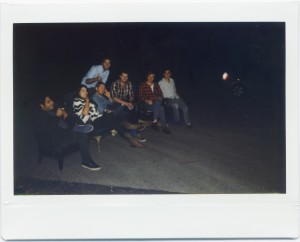 Auroravore is a band of brothers, this quartet consists of three biological brothers (Peter, Michael, and Marcus Brown) and a brother from another mother (Erik Garven). Known primarily for their synth driven Rock/Pop operettas, their layered sound takes electronica and infuses subtle vocal harmonies with a tight rhythm section.We had them deviate from that script and play an awesome acoustic set including one from their self titled album and a new track off their upcoming EP.
We also went over a variety of other topics including, but not limited to: how the band works backwards with song names, awkward Thanksgiving dinner conversations revolving around bands they've formed, forced dietary restrictions on developing children, and finally why the Red Hot Chili Peppers should be banned from sporting events.