Hola podcast fan, let me give you a quick warning about the content of this particular episode. It features explicit language and themes that may not be suitable for those who are sensitive to anything the Finnish Board of Film Classification would rate K-16 or below. Not to dissuade anyone from enjoying these guys because they're awesome, just letting y'all know!
We present Carpetbagger for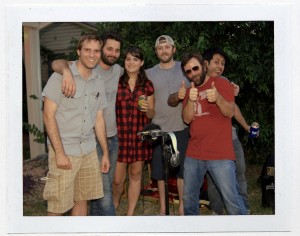 Episode 5 of lesfire. They'll try to play it off like they're just another Americana band writing songs about whiskey and highways, but we'll go ahead and disagree with them on that. There are plenty of cliche alt-country bands ramblin' around out there, but Carpetbagger writes damn good songs full of raw energy. In this episode, we sit down with 3/4ths of the band and – keeping with our unofficial recurring theme – talk about where they came from and where they've been (with perhaps our first ever guest that is actually from Austin). We also discuss their new (excellent) EP Far Off the Daybreak Call and the question that is burning through everyone's minds: are country and punk really all that different?